Over the weekend, two of the biggest free agents this summer agreed to new deals. What's notable about these two signings is that both of these players signed with new teams. Both of these players left playoff teams.  Both playoff teams were legitimate title contenders. Why did they leave? Where did they go? How will they fit with their new teams?
Another similarity between these two players is that they are both from the state of Texas. Also, their new teams both happen to be in Texas. The first player, Deandre Jordan, we have already written about here.
San Antonio Spurs Sign LaMarcus Aldridge (PF) to a 4 Year $80 Million Deal
Aldridge had many suitors but the Spurs are the team everyone believed he would pick. In the end, the Spurs winning tradition was too much to pass up for the big man.  How did they land him though?
Coming in to the offseason, the Spurs only had 35 Million in committed salaries.  his was because many of their big players were free agents. They traded Center Tiago Splitter to free up even more room and then quickly gave Danny Green and Kawhi Leonard new deals. This still left them with enough room for Aldridge.
To keep that room they had to let Cory Joseph, Aron Baynes, and Marco Belinelli leave though. They still had some free agents to re-sign too; a couple of guys named Duncan and Ginobili. How would they get deals for Aldridge as well as those two? It looks like the two veteran Spurs will be taking huge pay cuts in order to get Aldridge signed. In the end, some player losses and a couple of big sacrifices allowed the Spurs to land the All-Star power forward. Should we just hand the Spurs the championship then? Of course not. They added Aldridge but lost four other contributors. One of the Spurs' greatest strengths is depth  They just lost a lot of it.
Splitter is the biggest lost. He was a starter and fit the Spurs system very well. He allowed Duncan to play the four spot like he has done for most of his career. He'll have to play as a Center alongside Aldridge. The Spurs are a great three point shooting team but Bellinelli might have been their best shooter. Baynes and Joseph weren't special but they were competent.
Another reason to be less optimistic about San Antonio is their age. Duncan and Manu are ancient by NBA standards. Duncan was still great last year but when will that end? This upcoming year maybe. Manu looked finished at times last year too. Don't forget that Tony Parker and Boris Diaw are older players as well.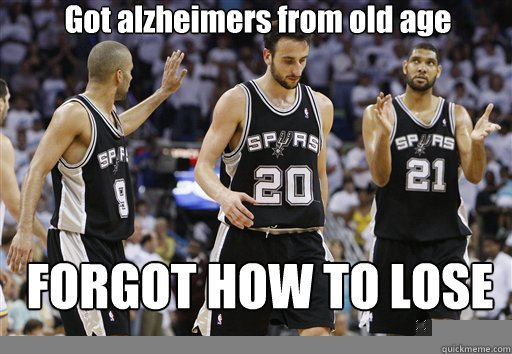 What about Aldridge though? Isn't he worth it? I think LaMarcus Aldridge is extremely overrated as a player. He's incredibly talented but he's not that productive. He's still really good but there are many worse guys who are more productive at his position. His greatest strength may actually be a curse.
Aldridge is a good outside shooter for his size but he's no Dirk. He rarely ever shoots threes. He like to shoot from around eighteen feet. That's the worst shot you can take. Even if you're pretty good at them it is still a bad shot and Aldridge loves these shots.
Aldridge put up 23 points a game last year but he only shot 46%. Since he plays so far from the basket he doesn't get to the free throw line as often as other big scorers. Combine that with his lack of threes and he is actually an inefficient scorer.
Aldridge is a good rebounder and a decent defender but that doesn't make him an All-Star. The Spurs will still be very good next year, but when Duncan is gone and they're left with only Aldridge as a big man, they will suffer.